José Mojica Marins, the eternal Zé do Caixão, may have said goodbye to the public with his death on Wednesday (19), but his films and curious stories will remain eternalized in the popular Brazilian imagination.
With a career that spanned at least seven decades, the master of terror was an easy figure with his eccentricities in Notícias Populares, a newspaper that circulated in São Paulo between 1963 and 2001, famous for its bizarre pages. Sought by UOL, journalists recalled the best stories involving the iconic Zé do Caixão.
Ze in Formula 1:
"Mojica followed the story of Notícias Populares, already with Zé do Caixão popular. We have no idea how giant he was. Everything in the newspaper he echoed or was a character. He was omnipresent. In 1993, we invited him to be a reporter for Notícias Popular in Formula One coverage. We always called someone who had nothing to do with motorsport. I remember him blessing Rubinho's car. He even took a photo with Schumacher! He cursed cars that were against Brazil "
Paulo César Martin
False girlfriend and clipped nail:
"I don't remember when, but Mojica said he was going to marry a girl much younger than him. An interview was going on and he was talking about their love and interest in horror movies and everything. Published report. I heard he was happy. One day, one of the authors of his book calls me and retrieves the story for the book … It was a marketing coup for Mojica to promote his films! The girl? I think she became an actress in the film. we did a story with a very sad Mojica. He received medical orders to decrease the size of his nails and was reluctant to cut his trademark. He said: 'I can't do this to me'. It was an attraction in the newsroom "
Djalma Campos
Homeless people in tombs:
"It was 1998 and I was doing a series of reports for Notícias Populares about people living on the streets who occupied tombs (with or without bodies) at the Santo Amaro Cemetery. In what would be the last report in the series, my editor had the idea of I took Zé do Caixão to meet them – and dressed as such, with a cape and top hat. While the photographer was already inside the grave and one of the characters was reaching for Mojica from inside, two cemetery workers ran in our direction to know what was going on. I have frozen in my memory my despair at seeing the employee running, Zé in cover and the photographer inside a tomb with a dead man and a homeless person – and I have to come up with an explanation. Zé invented one of his wise lies and we came out unscathed from the pierced agenda, which was never published, saying it was pictures for his next film "
Marcos Sergio da Silva
The 'photo of asses' by Zé do Caixão in Notícias Populares
Image: José Luis da Conceição / Reproduction
Butt photo:
"My first contact with Mojica was in 1986, when he started to migrate from horror to erotic cinema. I was called to photograph him with naked women in the Lapa neighborhood. When we arrived at the house, it was very simple, but with improvisation, it even happened. He had taken four women. We started a friendship like that, through the photographs. I took a photo with him surrounded by asses. Every time I met him, he charged me for these photos. On another occasion, he was releasing a horror story phone service. He posed in a coffin with a phone. I thought it was pioneering. "
José Luis da Conceição
Senior Woman Contest:
"I remember once arriving at the newsroom, which occupied the fifth floor of the Folha de S. Paulo building, and I heard the voices of women shouting in the archive room – a closed room where there were several cabinets that held enlarged and exemplary photos old newspapers (and where we got together to eat pizza on Fridays, when we stayed late at work.) Startled, I went to see what it was. Mojica was there. He was looking at women with long dark hair who demonstrated the powers of their vocal cords. It was the contest for the vacancy of 'Superior Woman', who would be the companion of the Master of Terror ".
Claudia Castro
Snail with egg:
"Whoever worked at Notícias Populares in the 1990s (like me) certainly did some work with him – or at least crossed paths with him in the newsroom. Or saw him as a DJ at Garagem parties piloted by Paulo César Martin and André Barcinski. Or helped somehow Ivan Finotti and Barcinski's research for his brilliant biography – one of the most fun I've ever read. My main story with him involved an agenda (which was later vetoed) that was "snail with egg is bad for your health ". I went around many bars in Ipiranga with him trying to find someone who drank this mixture. Nothing, nobody drank. He went along because they said he liked it, but he said he didn't drink it, but, according to the agenda, he would do it, he would say who drank, would take a photo. And did "
Denise Bobadilha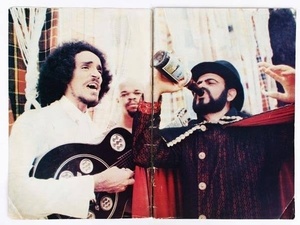 Zé Ramalho and Zé do Caixão
Image: Instagram / Reproduction
Zé Ramalho scared Zé do Caixão:
"In 1990, I was a novice in the newsroom of Noticias Populares when they asked me for a bizarre agenda. I would have to spend a Saturday afternoon next to Zé do Caixão at the Araçá cemetery in Pinheiros, west of São Paulo. the construction workers on the then new green subway line had seen spirits, I dribbled my fear of the cemetery and went there to accompany Mojica on her mission. The "diagnosis" was that the sound of the jackhammers prevented the dead from enjoying their eternal sleep. one day, Mojica told me a story about Zé Ramalho, who summoned him to shine on the cover of "The Devil's Fight Against the Owner of Heaven." Ramalho spent a few days at Mojica's house. , who died of fear when he saw the composer. The next day, Ramalho was invited to look for another place to land. Ave, Mojica! "
Sérgio Martins