Star Wars – Skywalker Ascension has been heavily criticized by fans and expert journalists since its debut in late December. Now a social movement under the tags #ReleaseTheJJCut and #ReleaseTheAbrasmCut calls for Disney and LucasFilm to release director JJ Abrams' full version of the film amid rumors. that the companies would have interfered with the long and forced filmmaker to cut most of the scenes he had envisioned.
The controversy was born in the Reddit forum, where a user under the name of "egoshoppe" yesterday posted a list of the changes that Skywalker Ascension would have gone through at Disney's hands. The information would come from a source who worked on the production and "wants people to know how much Disney screwed J.J. Abrams."
According to egoshoppe, the director did not have the creative freedom promised by Disney. He "was devastated and was taken aback" by the changes made by Disney, which included cuts and rewrites of audio passages.
It is worth noting that neither Disney nor LucasFilm or the others involved in Star Wars Episode IX have officially commented on the alleged leak. Reddit, however, is well known for providing space for behind-the-scenes revelations of movies and series. The ending of Game of Thrones, for example, had been fully detailed there, weeks before it aired.
Below we will detail what were the major changes in Skywalker Ascension, according to the informant. Some seem to have happened even during the script stage, while others came in editing.
Proceed with caution as there are spoilers.
Poe and Finn would be a couple
Finn (John Boyega) and Poe (Oscar Isaac) in "Star Wars: The Force Awakens"
Image: Disclosure
According to egoshoppe, J.J. fought to make the romance between the characters, a request from much of the fan base, a real one. However, he encountered resistance from the executives. We Got This Covered confirmed information from other sources that LucasFilm President Kathellen Kennedy dismissed the idea for fear of how it would affect the film's release in international markets. There were fears that countries like China and Russia would ban the film if two of its protagonists were openly homosexual.
In an interview with IGN, Oscar Isaac also blamed Disney for the absence of the romance between Poe and Finn. The actor said he insisted that the characters get involved. "But Disney's rulers were not ready for that," he added. In the end, Poe gained a romantic past embodied in Keri Russell's Zorii Bliss.
Force Ghosts would return
The scene in which Rey seeks support from the former Jedi to defeat Emperor Palpatine brings the voices of several of them, including Obi-Wan Kenobi (Ewan McGregor), Mace Windu (Samuel L. Jackson) and Anakin Skywalker (Hayden Christensen). J.J.'s original idea, however, was to bring the characters back as ghosts of the Force. The performers of the three characters cited would have even gone to the studios to record with the costume. "Rey should be surrounded by Force ghosts that would serve as a barrier between her and the Sith," wrote egoshoppe.
Rey and Kylo would have their most explored journeys (and not kiss)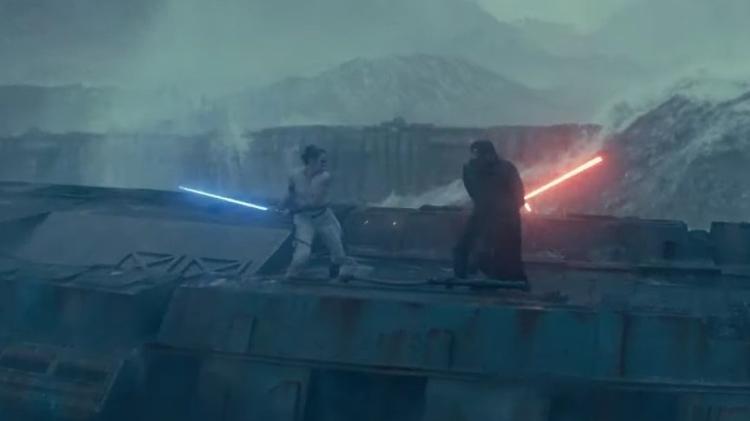 Rey and Kylo Ren in The Skywalker Ascension Scene
Image: Playback / YouTube
Rey and Kylo's journeys, on opposite sides of the Force, were the great engine of the new trilogy. And if it were up to J.J., the arches of both would have been developed with less haste in Skywalker Ascension. "There were several scenes in which Rey and Kylo separately reflected to understand what they were dealing with. She would realize that there was something sinister in her past, and he would deal with regret and remorse, but would try to dispel those feelings," egoshoppe wrote. . "Kylo's scenes were especially amazing because of Adam Driver's performance. It gave much more context and deeper meaning to his battle with Rey and his redemption at the end. It didn't happen so suddenly."
The informant further added that the final scene of Rey and Kylo, ​​in which he dies, would be 4 minutes longer and would have more dialogue. J.J. would also have been against the kiss "Reylo". "It was a Disney attempt to please both sides of the fandom," he wrote.
Han Solo's appearance would be explained
On the way to his redemption, Kylo has a vision with his father, Han Solo, whom he killed in The Force Awakening. In the original idea, however, Han's appearance was the result of an effort by Leia, who used her own memories, and his son's, to create a "physical manifestation" of the smuggler and get Kylo to do what was necessary. The process, however, would only happen with his death – and none of that was clear in the theatrical release.
Rose Tico would have more time on the scene
Kelly Marie Tran's character, who was criticized by an angry share of fans after appearing in The Last Jedi, would originally have had time on the scene. She had interacted with Rey right in the opening scene during the protagonist's training – and would appear with her in four other cut scenes. Disney would have found it "risky" to make room for Rose after the reaction to Episode 8.
The movie would be 3 hours long
J.J.'s cut to Disney in November would be 3:02 in length. He would then have "hesitantly" agreed to a 2h37 cut. The cut that hit theaters, however, is extremely shorter at 2h22. The original 3-hour version still exists, following egoshoppe, but you should not see daylight unless it is leaked.
You can check all the leak on here.