Image copyright Getty Images / EPA / Reuters Image caption Jeff Bezos from Amazon, Tim Cook from Apple, Mark Zuckerberg from Facebook and Sundar Pichai from Google defend their companies
The leaders of some of the world's largest technology companies appeared before Washington lawmakers to defend their companies against allegations that they abuse their power to crack down on competitors.
Amazon chief Jeff Bezos said the world "needs big" companies, while the directors of Facebook, Apple and Google argue that their companies have spurred innovation.
The appearance comes when lawmakers consider stricter regulation and competition probes are in progress.
Some critics want companies to split up.
Democrats put pressure on tech titans on competition issues, while Republicans were more concerned with how they managed information and whether they were marginalizing conservative views.
Congressman David Cicilline, a Democrat who heads the congressional committee that is holding the hearing, said a year-old investigation by lawmakers showed that online platforms "exercised their power in destructive and damaging ways to expand".
He said he was convinced that the companies were monopolies and called for action.
"Some need to be dismembered and everyone needs to be properly regulated," he said after more than five hours of testimony.
Mark Zuckerberg of Facebook, Jeff Bezos of Amazon, Sundar Pichai of Google and Tim Cook of Apple insisted that they had done nothing illegal and emphasized the American roots and values ​​of their companies.
What are the main concerns about technology giants?
At the hearing, lawmakers accused Google of stealing content created by smaller companies, such as Yelp, to keep users on their own web pages.
The treatment of Amazon sellers on its website, the acquisition of Facebook competitors like Instagram and Apple's App Store also caught the eye.
Image copyright EPA image caption In response to allegations that Google had stolen content, Sundar Pichai, head of Google, said the company remained at the "highest standard"
Cicilline said Amazon has an inherent conflict of interest as it hosts sellers and competes against them by offering similar products. This practice has also been subject to scrutiny by European regulators.
"Amazon's dual role … is fundamentally anti-competitive and Congress must act," he said.
However, some Republicans signaled that they were not prepared to split companies or significantly reform US competition laws, with a committee member saying "big is not inherently bad".
Republican concerns focused on the perceived political bias in companies, which they accused of suppressing conservative views.
"I'm going to get straight to the point: big technology is looking for conservatives," said Congressman Jim Jordan, an Ohio Republican.
Tech giants face food frenzy
Four of the world's top technology company executives may have testified before the Judicial Committee from a distance, but they were still caught in the middle of a political storm on Wednesday afternoon.
The stated aim of the hearing was to address whether existing antitrust laws provide sufficient regulation of transnational technological Goliaths. The reality, however, was that the procedures – with each committee member being given five minutes to speak – were more like a food frenzy, as corporate chiefs faced criticism from all directions.
Democrats expressed concern that companies were abusing their power, harming competitors or buying them entirely. Republicans accused the witnesses of insufficient patriotism and of being too comfortable with the Chinese.
Both sides expressed outrage at the way companies managed speech and expression on their platforms. They have not gone far enough to remove hateful rhetoric and false information, Democrats said. They chose conservatives for censorship, the Republicans countered.
Throughout the process, the witnesses thanked the interrogators and took their pieces, perhaps confident that they would soon be able to leave and return to work. While all politicians seemed to agree that big tech companies were a problem, their chances of coming up with any kind of solution seem unlikely.
What did the companies say?
Appearing by remote video, executives defended their companies, saying their products helped smaller companies and remained vulnerable to competition from newcomers.
Apple boss Tim Cook said the business climate was "so competitive that I would describe it as a street fight for market share in the smartphone industry".
Bezos, in his first appearance in Congress, denied that Amazon's multiple roles were a conflict of interest, but he admitted that the company was reviewing the treatment of salespeople's sales data on the site.
The company has been accused of using this information to launch its own version of the best-selling products.
Bezos said Amazon's rules prohibit employees from viewing sales data for individual companies, but admitted that employees may have violated the policy.
"We are investigating this," he said.
In his prepared remarks, Bezos said that Amazon faces significant competition from companies like Walmartand, noting that the company lost money for years by branching out into new areas.
"I love garage entrepreneurs – I was one. But just as the world needs small businesses, so it needs big ones. There are things that small businesses just can't do," he said.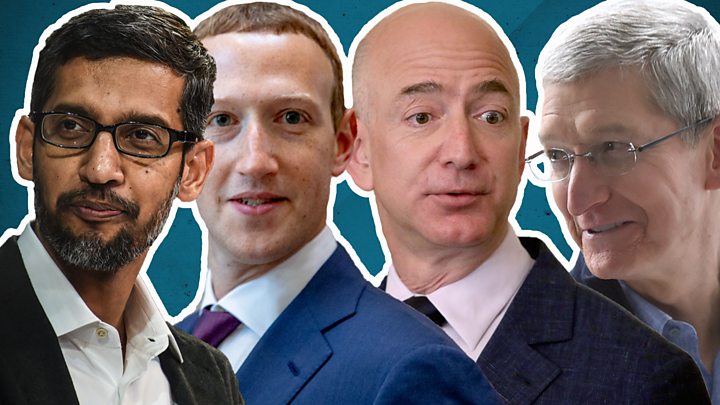 Media playback is not supported on your device
Media captionWATCH: Who are the "big four" and how much energy do they have?
What did Donald Trump say?
US President Donald Trump is a longtime critic of Amazon and has threatened his own action on Twitter, writing: "If Congress does not bring justice to Big Tech, what they should have done years ago, I will do it myself with executive orders. "
He also told reporters that White House officials were watching the hearing closely.
"There is no doubt that what the big tech companies are doing is very bad," he said.
Technology analyst Dan Ives of Wedbush Securities said "storm clouds" were building in Washington, but he thought it unlikely that Congress would join new legislation that would force technology companies to change.
"We believe that a legislative solution is the only one that creates a potential limitation on the ability of these companies to do business, whether in the form of higher taxes or new rules regarding market concentration," he wrote.
"In the absence of a legislative correction, we see no significant changes in regulation, although future acquisitions are certainly examined and more difficult to close."